Unturned
Jump to navigation
Jump to search
Unturned
Developers

Smartly Dressed Games

Publishers

Smartly Dressed Games

Engine
Unity
Platforms
Microsoft Windows, macOS, Linux, PlayStation 4, Xbox One, Xbox Series X|S
Release
Microsoft Windows, macOS, Linux


July 7, 2014


PS4, PS5, XBO, XSXS
November 12, 2020
Genre
Survival
Unturned is a free-to-play post-apocalyptic zombie survival game developed by Smartly Dressed Games, and originally started as a browser game before moving to Steam. The latest iteration of Unturned is developed in the Unity game engine.
The game has gone through three distinct iterations: "antique," "classic," and "version 3." A "preview" branch can be opted into that allows for public testing before an update goes live, and previous engine versions of the game are available as separate branches for archiving. The game is available from its store page, and community features can be easily found through its community hub.
Unlike its first two iterations, version 3 features Steam Economy integration in the form of random daily playtime drops, a Community Market, and a developer-managed storefront called the Stockpile.
Desktop version
The desktop version of the Unturned is the most extensive and updated version of the game.
Unturned first began in 2013 as a browser game, and was created as the spiritual successor to Deadzone. The browser game continued to see development until 2014. On June 17, 2014, a new major iteration of the game was brought onto Steam. Players with a premium account on the browser-based iteration of the game could begin playing before its official release into early access on July 7, 2014. This iteration of the game would be short-lived however, as the game very quickly became popular on Steam which necessitated many networking improvements. While the game continued to receive mainline updates, by August it was announced that the overhauls to networking, optimization, and other content would be released in the future as the "3.0 Update".
On September 25, 2014, the "Black Box" update to the game would mark the final update for this iteration, and would also introduce the "3.0 Update" on the preview branch of the game. This newer iteration of the game was kept on the preview branch until July 7, 2015, celebrating the one-year anniversary of Unturned's original release on Steam. The game would finally leave early access for its third anniversary on Steam.
Chinese version
In order to provide a proper official localization to Unturned's Chinese audience, Nelson formed a development team in partnership with Tencent Games—the video game publishing division of Tencent Interactive Entertainment, which itself is a division of Tencent. Their partnership is called Sānlúnchē (三轮车). While the mainline build is still maintained by Smartly Dressed Games, a separate Chinese version is developed by Hong and operated by UU. The Chinese version of the game is localized as Untransformed (未转变的).
The latest information regarding the Chinese version of the game can be found on Sina Weibo, a Chinese microblogging (weibo) website and one of the biggest social media platforms in China. This information is distributed by Tencent Technology (Shenzhen) Co Ltd, who run the game's official news account on the site. Additionally, they run the official forum for the Chinese version of the game. The original video announcing the partnership was released on Sina Weibo.
Alternatively, information can also be found on Baidu Tieba (the largest Chinese communication platform) and is provided by UU directly. A slightly modified version of original announcement video was posted on Baidu Tieba.
Console version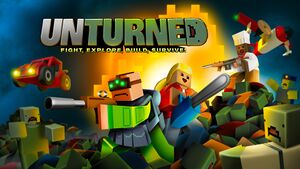 Unturned was released for PlayStation 4 and Xbox One on November 12, 2020, and is also available on the PlayStation 5 and Xbox Series X|S through backwards compatibility. The console ports are developed by Cradle Games and published by 505 Games, and were released after several years of development. Its development team has been changed multiple times, and the game was originally released under the development of Fun Labs.
Anti-cheat software
Unturned makes use of two separate anti-cheat software. The game has both BattlEye integration, and Valve Anti-Cheat (VAC) integration. BattlEye was founded by Bastian Suter in October 2004, and is a third-party anti-cheat software with a development team based in Tübingen, Germany. VAC is developed by Valve Software.
Unturned II
Unturned II was an upcoming post-apocalyptic survival game, intended to be a sequel to Unturned. It would have followed a different storyline, and was being developed in Unreal Engine 4. The game was being developed with a regularly-updated private beta available to community members, and semi-regular development posts. However, as of May 11, 2022 the game's development is on an indefinite hiatus. Many of the ideas planned for, or implemented into, Unturned II have since made there way into Unturned instead.
Gallery