Shortfilm Contest June 2019
Jump to navigation
Jump to search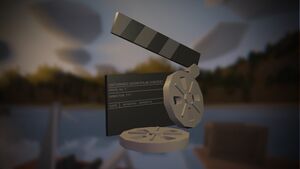 The Shortfilm Contest June 2019 was an SDG-sponsored competition for Unturned (version 3). It was hosted by Froggo. The competition was to create a short film.
Guidelines
[
edit
]
Judged on camera work, writing and storytelling, editing, and genre adherence.
Must have proper licensing for any third-party work used, such as music.
Minimum length of one minute, with no maximum length.
Prize pool
[
edit
]
Gold, silver, and bronze trophy skins, for first, second, and third place respectively.
Entrants
[
edit
]
There were four qualified submissions to the event. Lucky Shot won first place. Initium won second place, and the community vote. The Turned won third place. Northern-Detachment did not receive a placement.
Coverage
[
edit
]