Hatchback (U4)
Jump to navigation
Jump to search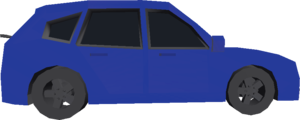 The Hatchback is a vehicle in Unturned II.
Overview
[
edit
]
The Hatchback utilizes a front-wheel drive system. It has a capacity of four – one driver, and three passengers.
Variation system
[
edit
]
The Hatchback is available in blue.
Acquirement
[
edit
]
In the Firing Range map, it can be found near the player spawn point, off to the left.
In the Sandbox map, it can be found inside the garage of a two-floor house.
It is the first and only vehicle in the game.
It is based on a tenth-generation Honda Civic hatchback.
The rear license plate of the Hatchback reads "BP40J". Curiously, it does not have a front license plate.