BakeNation Horde Chapel Event October 2019
Jump to navigation
Jump to search
BakeNation Horde Chapel Event October 2019 was organized by BakeNation, and featured sixteen competitors in a race to get $11,500 in game dollars first. The entirety of the competition took place on October 20, 2019, although sign-ups occurred prior.
About
The original tournament posting had the $ goal at $100,000 but game staff quickly realized this was too high and was continually lowered over several failed attempts by the competitors. Started at $100,000 -> $40,000 -> $30,000 -> $20,000 -> $11,500.
Game staff
HoldBaker
Format
16 players in a Horde Chapel match, first to $11,500 wins.
Participants
Results
Danaby2 reached $11,500 at 2:36 PM EDT by submitting this image: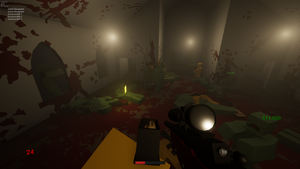 | Place | Prize | Contestant |
| --- | --- | --- |
| 1st | $50 USD | Danaby2 |